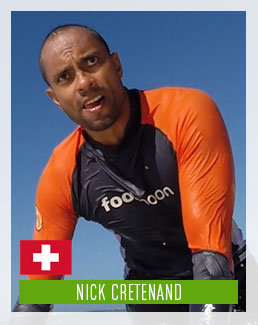 Date of Birth:
... 1977
Place of Birth:
... Switzerland
Height:
1.86 m
Weight:
83 kg
Home spot:
Gouille de Sion / Tamarin Bay - Mauritius
Favourite spot:
Black Stone - Tamarin Bay / Mauritius
Best SUP trip ever:
Chaque trip de SUP reste mémorable ! En lac, rivière ou en mer... just love the water
Team Fool Moon since:
Many years
Your favorite athlete:
En SUP Sir Laird Hamilton qui nous a montré la voie de l'océan.
The SUP that you take on a desert island:
Black Zooma 9.6 ou Monsoon Waves 8.6
The RECORD that you take on a desert island:
Spanish Joint (live session ) by D'Angelo ou le dernier album "Malibu" de Mr Anderson .Paak
The BOOK that you take on a desert island:
Je prends un bloc de papier, un stylo et je l'écris ...
A famous lady who inspires you:
Toutes les mamans du monde, la mienne avant toutes les autres . Force de dévotion, patience, persévérance, abnégation et love inconditionnel.
A famous man who inspires you:
Muhammad Ali aka Cassius Clay - philosophe à la grande gueule qui n'abandonne jamais, s'entraîne dur pour réussir, prends des risques, dis ce qu il pense.... vol comme un papillon et pique comme une abeille (float like a buyterfly, sting like a bee)!
Who Are You:
Après de longues année de football, basketball (joueur et entraîneur - plusieurs finales suisses) et de rock climbing (7b), mon coeur et mon âme attendait la première vague que j ai prise à 34 ans...depuis je n'ai plus lâchée la pagaie....au-delà de modeste résultats en compétition, mon objectif principal est de prendre le maximum de plaisir à chaque sortie, en entraînement, en course, dans les vagues....la connaisse de soi et de ses propres limites et en art qui se cultivée.
Suivez Nick Cretenand ici: