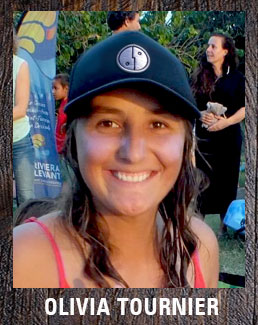 Date of Birth:
02.05.97
Place of Birth:
Marseille / France
Height:
153 cm
Weight:
50 kg
Home spot:
La pointe rouge / Marseille
Favourite spot:
Lagon de Saint-François et Port Louis / Guadeloupe
Best SUP trip ever:
My best surf trip was when I decided to live in Guadeloupe. This two-year trip was the most beautiful trip of my life and the best place I have known to practice all board sports on the water. Downwind conditions, waves, warm transparent water, wind, what ask for more? Not to mention the hospitality from the people of Guadeloupe, the very simple way of life. It really feels like home to me and hope to return as soon as possible! ;)
Team Fool Moon since:
September 2020
Your favorite athlete:
Jason Polakow, Australian waverider mainly windsurfing, but comfortable on all supports
The SUP that you take on a desert island:
Assuming that there will be swell every day, a Fool Moon Monsoon sup wave in 7.6 x 80L
The RECORD that you take on a desert island:
Naaman! Some reggae on an island, what else!
The BOOK that you take on a desert island:
Petit Pays of Gael Faye or Robinson Crusoe, it could be useful to me!
A famous lady who inspires you:
I would say Fiona Wylde for her level in paddle, whether in race or wave and her ability to manage her diabetes while being a top athlete.
A famous man who inspires you:
Still Jason Polakow
Who Are You:
I am Olivia, I am 23 years old, and I live for the sea and the ocean. I have always lived by the sea and these are
my parents who passed this passion on to me, starting with sailing.
From a very young age, we took cruises on our 9-meter sailboat, and then I was able to
participate in regattas in Marseille with them.
Then I hooked up with windsurfing which I have practiced for more than 10 years in competition
up to international level, then winfdoil.
When I arrived in Guadeloupe 3 years ago, I discovered SUP with my STAPS teacher Cyrille Curtit
who is also part of the Fool Moon team and I totally hooked!
I practice a lot of outdoor sports, surfing, sup, windsurfing, trail, climbing, spearfishing
marine and the foil under any support that grows more and more.
What I love most of all is travel, discovery, sporting challenges and riding!
I am now studying physiotherapy in Spain for 3 years, and then I hope to travel by sailboat
around the world by riding the best spots while being able to help and care for people in the
need.
Suivez Olivia Tournier ici: